Interview with Jo De Cock (NIHDI)
21-09-2012
ALS Liga spoke with Jo De Cock, Chief Executive Officer of NIHDI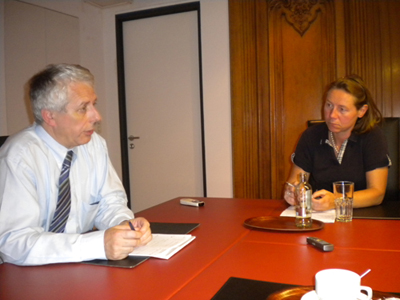 The National Institute for Health and Disability Insurance (NIHDI) is well known amongst pALS, because it has already made a difference in some important practical matters. Its involvement, for example, in the approval procedure for wheelchairs within 30 days is highly appreciated. Is NIHDI currently cooperating on other initiatives for pALS?
Actually, we are currently working on a specific project for pALS, namely to better organise the reuse of aids. Mobility and communication aids need to be well structured on a central level, so as to avoid patients becoming the victim of administrative problems between different institutions. With financial aid and the involvement of ALS Liga, we want to make sure that we can act quickly when it comes to degenerative diseases, and appeal to flexible procedures aimed at fulfilling immediate and concrete needs, with a minimum of red tape. A lending system is being developed with the help of local funds for people with a disability, and the involvement of the neuromuscular reference centres (NMRC's). It is currently under review by different ministries. Ideally a single politician will take charge of the matter, for example state secretary Courard. I would like to see it completed by the end of the year.
It is the ultimate wish of pALS that an effective medication will soon be discovered. Will NIHDI in that case be ready to quickly register it for commercialisation and reimbursement?
Firstly we will look into the classification of the drug. If it is labelled as an orphan drug, it will need to follow a specific procedure. If it is not an orphan drug, it will need to follow the classic procedure for reimbursement. In either case – and this has even been included in the federal coalition agreement –NIHDI will give priority to medication with high medical needs, for example medication that saves lives or at the very least has added value for certain rare medical conditions. This means that as soon as it is recognised by Europe – and in some cases even sooner during the recognition procedure – such a medication can quickly be made available in Belgium under strict medical conditions. NIHDI is closely monitoring the medical evolutions in this field. We would however like to warn against creating false hope. An announcement from a pharmaceutical company can be mainly aimed at their investors.
A few years ago, the European Medicines Agency (EMA) developed the Orphan Designation programme to stimulate research into orphan drugs. Here at the ALS League, we feel that the impact of this initiative is somewhat diminishing.
I don't think that is true. EMA is still doing a good job within this field. Different EU member countries have continued the work by developing a European fundamental plan for rare diseases. In Belgium, it was drafted by The King Baudouin Foundation and approved by NIHDI. It might not have been featured prominently in the media, but the debate on orphan diseases is still ongoing. Moreover, government policy for the next term of government is clear it will implement a series of initiatives. In 2013, Belgium will have to inform Europe about the efforts it has taken towards rare diseases and how it will further develop this plan. NIHDI will therefore finance additional reference centres for those orphan diseases that still have none. We will use the NMRC's for pALS as a practice example for other target groups.
Social security in Belgium is generally well organised. However, flaws that are relevant for pALS regularly appear. At this moment for example, it is not clear whether the implantation of a Diaphragm Pacing System qualifies for reimbursement.
In such relative new cases, the wording of the reason for the procedure is of main importance. If there is sufficient clinical evidence, we can allow for a provisional or conditional reimbursement, using the Special Solidarity Fund for example. Procedures for groundbreaking applications however won't stay simple. Pioneers always need to clearly demonstrate the added value of their product. At NIHDI we can conduct trials to objectively verify whether reimbursement is acceptable. Sometimes patients already come to us requesting reimbursements for therapies or procedures that are still undergoing a clinical trial period at a university hospital. The actual medical advantages are not clear yet at that time, so some restraint or at least caution is necessary.
For patients it is unfortunate that certain medication or medical applications are produced by American companies, but are not tested or marketed in Europe.
Companies generally make such decisions based on their business model or on ethical politics. It is however somewhat peculiar. FDA (Food and Drug Administration) approval is sometimes sufficient for a company.
The government stimulates the use of generic drugs. Is this just because of financial reasons?
The reason is twofold. Obviously they want to encourage financial competition by using valuable medications that cost less than the original. But this also makes room in the budget for the reimbursement of expensive innovative medications, such as recent cancer treatments based on antibodies. It is therefore untrue that NIHDI is only interested in generic drugs en not in future specialised medications.
The pharmaceutical sector, whose R&D costs are under threat, is however worried about their profitability. To which degree can innovative companies still invest in products for small target groups like pALS?
It is true that the costs of research are growing, but I also believe that there are still possibilities to improve efficiency. The big question remains: what is the cost of their return on investment? This should be more transparent. They often only have one product to compensate for expensive R&D costs. In addition, they usually cooperate with other companies, and therefore need to share potential profits. The government promotes research into medications using incentive measures. But it is still a question whether health insurance should bear the write-off of the R&D costs.
We should focus on medications with high medical needs, for example medications for ALS or for types of cancer that to this day remain incurable. We also need to question our current financial mechanism in which we reimburse product by product. The ageing of the population obviously leads to higher costs for health insurance. Growth percentages of the past are impossible to maintain. Choices will therefore have to be made. We shouldn't just focus on price control, but we should also stimulate the correct usage of medications.
The pharmaceutical sector in Belgium is a major employer, but changes are occurring here too. Which direction will it take?
We are leaving the blockbuster age behind us. Developing new medications for mass production will slowly disappear. Lipitor, for example, a successful drug against high cholesterol, will soon lose its patent. These blockbusters currently still have sufficient capacity, but no longer the massive capacity of before. We are now moving towards more specialised medications, for example those produced by biotechnology. A breakthrough in this field was anti-TNF medications for rheumatism. These are no longer aimed at millions of patients, but instead at a few thousand. Still one knows that these will add value to the quality of life and provide people with the possibility to remain active within society. In the field of cancer treatments, we will also see a more personalised approach that is based on the patient's genetically background.
You have just mentioned patient's quality of life. Is NIHDI also working on initiatives within this field?
Quality of life is extremely important to patients, and even more so when they are suffering from a still incurable condition like ALS. Care residence Middelpunt that is being used by ALS Liga to provide a relaxing stay by the sea for pALS and their family and friends, is a beautiful accomplishment, which NIHDI fully supports. It is an example of bespoke care services in an adapted environment. In future we will have to focus more on these kinds of measures than on the unified measures we had in the past. Our care system should also become more flexible. The use of a wheelchair by a patient who has lost his legs because of a trauma is very different for example from the use by an ALS-patient faced with muscle paralysis across the body.
And let us not forget about the caregivers, because they too are emotionally burdened by the day-to-day care for their pALS. It is equally important that they are able to relax at this care facility as well.
NIHDI has therefore urged minister Onkelinx to provide an operating budget for this care facility. A major motivation was that we at NIHDI had a co-worker with ALS, and one of my own friends has also died of this disease.
We can already inform you that the building plans of the care facility are on schedule. The opening is planned for June 2013, to which we would like to invite you.
I hope this interview has demonstrated that NIHDI is concerned with the quality of care provided in our community. They should know that the majority of funds are used appropriately, including on projects such as ALS Liga.
Mr. De Cock, not only do we thank you for this sincere interview, but also for your understanding, your attention and your commitment towards ALS patients and we wish you and your co-workers all the best for the further workings of NIHDI.
ALS Team