Tools
ALS Mobility & Digitalk non-profit association lending service 

 

The project Helpdesk ALS Digitalk (communication tools for pALS) is made possible by the Dienst Welzijn en Gezondheid of the province Vlaams-Brabant.

On this page you can find how pALS can borrow a tool at ALS Mobility & Digitalk non-profit association for free
The ALS tools lending service
One of the reasons for the creation of this own lending service is the long waiting time at the public bodies. Due to the administrative fuss at the public bodies, people with ALS have to wait way too long for their tools. Therefore the decision with regard to the requested tool often arrives when the disease has evolved in such a way that the tool requested is no longer functional. Or, in other words, due to the quick evolutionary aspect of ALS the decision often comes too late.
What is more, you have to be subscribed at the competent authorities before your 65th birthday to be able to claim for interventions and/or refunds when purchasing tools. If you are hit by ALS after the age of 65 you have to pay for almost everything yourself and this can be financially tough.
The ALS M&D works with tools that were donated after the pALS passed away, donations from service clubs or tools that were bought by ALS M&D.
All these tools are maintained and adapted by specialists, so the service runs in an optimal and professional way.
All requests for repairs and adaptations to tools borrowed from ALS M&D have to be addressed to the organization itself. The works will only be carried out on behalf of ALS M&D. If the repairs don't go via ALS M&D or by negligence of the borrower, the repair costs are anyway not being recognized.
Communication Tools
Overview tools for communication
• Tablet PC as a tool for communication

• Lightwriter

• PC software

• Lucy

• Allora

• Dubby

• Spock

• Mudikom

• Tellus

• Canoncommunicator

• Eyeball control, etc…… 
If you are a pALS with beginning or advanced bulbair problems, let us know. Together we will look for a solution for your speech problems. It is essential that you keep communicating with family, caretakers and your environment. Also for pALS who wish to work with a PC, adapted software is available.
COMMUNICATION -TEST ! ! !
People with ALS can borrow a communication device for free at the ALS M&D non-profit association. This is the procedure:
• If you are not yet a member, have yourself registered for free at ALS Liga België non-profit association.

• Contact us.

• We make an appointment at the ALS Secretariat in Leuven.

• Then we take a small test for free to determine which device is suitable.

• When the test is too complicated we can refer you to advisory bodies.
• If the device is available you can immediately take it with you and you can get to work.

• A deposit of 80 euro is paid to ALS Mobility & Digitalk non-profit association.
As the disease manifests itself and the device becomes less functional contact us again so we can adjust the procedure.
This procedure ensures that you always have the most optimal device. French speaking people with ALS can also contact us but in case of referral they have to go to the Walloon CRETH for a possible additional test.
ATTENTION
If you no longer use the device, you have to return it as quickly as possible (by appointment) to the Secretariat of the ALS M&D lending service. This allows us to quickly help other people. The deposit can only be refunded upon return of the device to the Secretariat.
French speaking people with ALS can, in case of referral for a possible additional test, go to:

CRETH, Rue de Bruxelles 61, Namur 

tel.: 081 72 44 00

e-mail: creth@psy.fundp.ac.be
CRETH is no commercial entity. It is an independent non-profit associations that looks for practical solutions to your communication problems together with you.

The tests of CRETH are for free.
Mobility Tools
Overview tools for mobility
• Sophisticated Electric wheelchairs

• Manual wheelchairs
• Electric scooters
We have several electric wheelchairs with adapted operating systems. These are made available for free to pALS pending their own wheelchair. We have several types, ranging from simple electric wheelchair with hand control to the most sophisticated ones.
Tools miscellaneous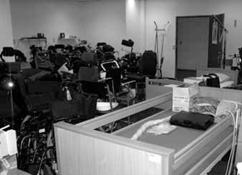 • Lift systems (active and passive)  

• Bath lifts

• WC shower chairs

• Page turner tools

• Electrically adjustable beds

• Environment Operating systems

• Recliners

• Anti decubitus material

• Walkers

• Wheelchair bike

• Electronic stair climber

• Alternation mattresses
Do you have tools in loan that, due to certain circumstances, are no longer used or no longer efficient, please return them to us as quickly as possible. Other pALS will be grateful.
If you are in the possession of an own tool that is no longer of any use to you and that you wish to donate to the ALS M&D, please give us a call. We take care it can be used by the appropriate person. The ALS Mobility & Digitalk non-profit association thanks all family members and relatives that donate or have donated tools to our association, with which we can temporarily help a number of other patients.
Lending material conditions
The main activity of ALS Mobility & Digital non-profit association is to advice and the lending of tools. The lending of tools is completely for free. ALS M&D only asks for a deposit that depends on the material requested. The pALS has to be registered 'for free' at the ALS Liga.
| | |
| --- | --- |
| Material | Desposit amount |
| Communication tools | 80 EUR |
| Electric wheelchair | 120 EUR |
| Other | 40 EUR |
This deposit will be refunded after return of the material borrowed.
At the moment of borrowing, the material is always in good working condition, cleaned and disinfected. It goes without saying that we expect that the material is returned in a clean status. The disinfecting takes place at the expense of ALS M&D. It happens however regularly that tools are returned which are not clean. We would like to ask family and friends of pALS to look after it that tools are cleaned before returning them. If not, we will have to deduct the deposit, or part of it, to pay the cleaning costs.
At the same time we want to draw your attention to the fact that the material borrowed is not always returned in due time but sometimes a long time after the patient no longer uses it or can use it or after the patient passed away. This is not only unfair to other patients that might be waiting for this material, but also for us, this causes problems. We will therefore take this into account when refunding the deposit.
A contract is drawn up in which the material borrowed is listed as well as the deposit that has been paid. At the back of the contract, the Terms and Conditions can be found.
As such the material borrowed remains the property of ALS M&D and in case of non-compliance with the conditions, ALS M&D has the right to ask a rental price, depending on the type of tool or to recover the tool. All tools borrowed via who/where and property of ALS M&D have to returned to the secretariat in Leuven. Only via this procedure the deposit can be refunded.
 Transport Fee
The desired tool in lending has to be picked up at our secretariat in Leuven and afterwards has to be returned at the same address. If this is not possible for you, we can take care of transportation for a fee. That fee is 0, 40 Euro per kilometer, with a minimum fee of 20 Euro.
Your application to the Belgian authorities
When preparing your possible application at the authorities of your choice (MDT, social worker, …) attention should be paid to the quick and evolutionary character of ALS. The application should therefore be future-oriented. With this we mean that, when you apply for a wheelchair for example, this wheelchair must be able to evolve with the disease and the adaptations linked to that. Don't forget that the device, assigned to you by the government can only be renewed after 4 years.
Also for communication tools, we advise you not to wait till your voice has almost completely disappeared.
Vlaams Agentschap voor Personen met een Handicap: 
www.vaph.be/vlafo/view/nl/
Agence Wallonne pour l'intégration des personnes handicapées:
www.awiph.be
Le Service bruxellois Phare – Personne Handicapée Autonomie Recherchée: 
www.phare.irisnet.be
Brussels Aanmeldingspunt voor personen met een handicap: 
www.brap.be
Dienststelle für Personen mit Behinderung: 
www.dpb.be
RIZIV – INAMI: 
www.riziv.fgov.be/homenl.htm