Annie and Sam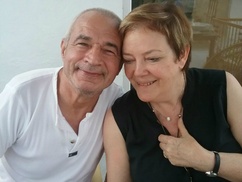 Annie and her partner Sam were looking forward to their retirement. When Sam was diagnosed with ALS, everything changed. Their travel plans were shelved and Annie became Sam's informal caregiver. But how does Annie feel about being an informal caregiver? We asked her our eight informal care questions.
1. How did you become an informal caregiver?
"In February 2015, a week before his retirement, my partner Sam was diagnosed with ALS. His deterioration slowly began since then. He needed more and more help. You don't become an informal caregiver overnight. You roll into it. Now, almost two years later, Sam needs help with everything: washing himself, going to the toilet, getting dressed, eating, ... Walking has become nearly impossible. And based on what I've heard so far, this is just the beginning. A lot worse is to be expected…"
2. How are you coping with being an informal caregiver?
"Caring for Sam has started to take its toll, both physically and mentally. I can manage the care itself, but not having a moment's rest is causing a lot of stress. Additionally, Sam has started falling a lot more. I try my best to prevent it, but I do not always succeed. And being only 1.58 metres tall, it has become nearly impossible to help lift him back up. Fortunately, I have great neighbours whom I can rely on whenever I need help. But it's not easy when he refuses to accept his disease and still wants to do everything by himself."
3. What are the good moments?
"When he's safe in bed at night, watching TV, I can finally relax: another day passed without any major accidents."
"Next year is our 20th anniversary. And in those years we've accumulated many beautiful moments and memories. Sam is originally from Bulgaria; the many visits to his family and friends are unforgettable! I will also fondly remember all our trips to France and the countless summer barbecues we've had with our children and grandchildren. "
"Hopefully we can still add to this collection of memories. We won't be able to travel anymore, but we have a large circle of dear friends and family members. They help and support us and come cheer us up when we're struggling."
4. What are the difficult moments?
"Apparently some ALS patients experience cognitive changes, causing them, for example, to forget an acquired language. In Sam's case, this is Dutch. So communication is almost non-existent."
"I find myself wondering more often when helping becomes fussing. Our neurologist warned me that Sam's behaviour might change. Sometimes I don't even recognise him anymore. Everything has to be done immediately. His impatience sometimes drives me crazy. He lost interest in everything he used to love, like reading. And reading is precisely one of the few things he's still able to do. I'm dreading winter. The days will feel longer, without any sort of occupation. If anybody has any suggestions, I would love to hear them! "
5. What do you do to relax?
"Little to nothing. Once in a while I try to read a bit, or look something up on the computer. After I dropped of Sam at the physical therapist, I do the groceries, and cook us a nice meal."
6. Do you use any services?
"Currently, I still don't make use of any services. But I'm considering using a cleaning service."
7. How do you maintain a balance between his care, your hobbies and your family life?
"Unfortunately, I don't have a lot of free time for any hobbies. Our family, however, is very close, so they regularly come visit us. It's always a lively atmosphere in here on those occasions and I see Sam still enjoys that, even if he doesn't say much."
8. Do you have any advice for other informal caregivers?
"I would advise them to keep thinking of themselves as well! But shouldn't I start doing that myself?"
Translation: Katia Ombelets
Source : Ma-zo