Koen Bulckaen and Vicky Mahieu
PEOPLE WHO INSPIRE
Christmas decoration at the Bulckaen-Mahieu's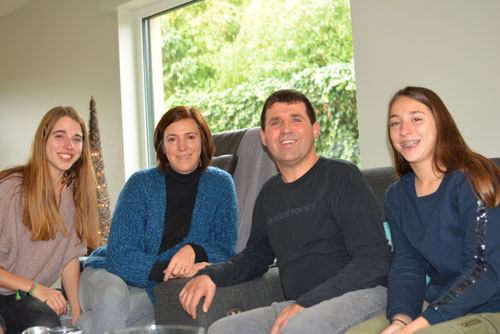 The year is coming to an end, the last days are being counted. As we go and buy presents in all haste, we make up the balance of last year's expectations and achievements, our thoughts wandering to the year ahead.
People receiving a serious diagnose change dramatically the way they live time. All of a sudden their life will be divided in the period before and the period after the diagnosis. For Koen Bulckaen last year was a true landmark. This sporty 60-year old from Deerlijk is a man with countless hobbies: music, football, volleyball, tennis, just to name a few. But above all he's a husband and a father and a very social one at that: president of the comity of parents at school, the Chiro movement called Sellewie, acting in Theater Sellewie.
On March 3 this year Koen received the diagnosis of ALS. On Mother's Day he fell from his bike and since that day he hasn't used his normal bike anymore. A month later he had his very last walk. He is losing his strenght and gradually he has to give up on things. "At this moment I am tied to the very place people put me down," says Koen, illustrating perhaps best the speed at which a muscle desease or nervous illness can affect you.
Of course the diagnosis is given to just one individual, but in fact all relatives are affected by it. Dayly routines such as brushing his teeth or shaving, Koen will find them impossible. This makes him a man in need and dependent on other family members, in the first place his wife Vicky Mahieu. His partner for 22 years in good times and in bad times, she is a woman having a career of her own but who gave it up temporarily in order to give her husband her full attention. 'I am lucky I have a wife like Vicky. When I'm feeling down she will always be there for me. I try to thank her every day for what she is doing for me," says Koen frankly.
Vicky is always there for her man, but fighting the desease may become a cause of annoyance. 'It is my greatest frustration that there doesn't exist any medicine to cure this desease ... yes, that really makes me mad.' ALS is one of those deseases that are still not quite enough examined and of which the causes are still unknown. That makes it even harder to cope with it.
In the beginning they tried to spare their two teenage daughters, but it wasn't for long that they couldn't hide the obvious any longer. Indeed, everyday life changed dramatically. It appeared that notwithstanding their tender age Febe and Flore were very much capable of handling the desease. The obligations at school, the contact with other teenagers, it was all quite effortlessly combined with their tasks within the family. Moreover they apparently heritated the optimism gene from their parents: 'Papa, you must live now, you shouldn't think about what's coming next,' says Febe, repeatedly, when noticing her dad's sorrow.
And yes, they are very positive and continue to celebrate life, even if traditions with holidays are not quite what they used to be: 'Now family moments around the table have changed,' says Koen, 'but in fact the whay we celebrate doesn't change much, it remains the same.' And Vicky adds: 'It's just a little different now, the way we deal with it.' In spite of everything, or who knows thanks to it, Christmas at the Bulckaen's is very much present indeed, more than at any other place.
When counting down to the new year, the family will have their wishes at the ready. 'That we may still live many happy moments with our friends, family, everyone dear to us: may they still remember us next year,' says Vicky. Koen's greatest wish is 'that the desease stabilises, that he won't go downhill any more and that he can do as many delightful things as possible with his household, family and friends.' Let's hope that the new year will be a turning point in the scientific researches to find both the causes and the treatments of ALS and that Koen and all the other patients will see their wishes fulfilled .
Visit to the ALS Liga (League)
'Shortly after we knew about the desease we called the Liga. But when you want to become a member you still have to go to Louvain and in the beginning we said that it was too far away. It was difficult for us but in the end we did go there.' Koen goes on with his story, talking about how he got to know Danny, an ALS patient himself and president of the ALS Liga. That encouraged him very much never to give up and helped him a great deal to accept his situation.
Notebook
Koen is happy with his large family and his fiends and very grateful for everything they do for him. From the first moment they did their very best to make his situation more comfortable. 'It feels good to know that once in a while all these people think about you, that gives me the courage to go on and and not sit down under it. For instance, my friends gave me a helicopter ride, it is as if the group has become closer through my desease.'
In September the two families, both Koen's and Vicky's, organised a benefit together with friends from Jong Oud-Leiding Chiro Sellewie. The resources they collected are very much needed to compensate for the financial worries coming due to decreasing revenues. Koen came with a special gift to thank everyoneom. 'On December 4 we had a moment of thanks and cheques were handed over, I wanted to give something back to everybody and chose to keep a notebook.' Koen hopes that his little notebook can help him to set a date without delay and enjoy more nice moments with his family and friends.
Aldijana Cosic
Translation: André De Laet