ALS patient conquers volcano in Nicaragua
Adventure becomes ALS patient Antonio Ventriglia. Last year, teaming up with marathon runner Ronny de Cocker, he repeatedly broke the record for the combination marathon/pushing someone in a wheelchair. Now he's just returned from an adventure group journey to Nicaragua where they faced wild nature by climbing the Cerro Negro volcano. Ventriglia is a brave and cheerful man who, in spite of his life-threatening diagnosis, doesn't fear danger, is always in for adventure and really loves to talk about it. (Interview: Daphne Talboom)
Where did the idea come from to make such a long journey?
The idea had been playing in my head for a long time. In spite of the fact I have ALS I want to do as many things as possible and enjoy life, now that I still got the chance. I found the U/TURN site (the travel agency) through my friends in the ALS League and that's what set things going. At first I made trips not that far away, such as the Atlas Mountains in Morocco and Tenerife with my family. That didn't always go well, but it was kind of a learning phase for me. And the tougher things get, the more I like them. Over and over again I've been facing challenges and dealt with them. Trips such like the one to Tenerife are quieter and more something of a sweet treat! That journey was really fun, because I made it with my family, but it's not much of a challenge. Facing myself and "conquering" my diagnosis is the most important reason why I'm making such difficult trips.
How many of you were there?
All in all 22 people, five of whom were in a wheelchair. Six people with a disability who had had a CVA or a heart attack, but who could still walk. I was the only one with ALS. And then there were two nurses, a physical therapist, a doctor and four or five volunteers. Also, the journeys are rather expensive as we have so many attendants. Fortunately Medicare (CM) pays back part of it.
Tell me about the journey.
One of my companions/organizers, Sven, was also my attendant. He has a blurred vision and so he can only see shadows. I was his eyes and he was my legs and pushed my wheelchair. I told him where to go. That's not always obvious because, among other things, we drove through the jungle and on roads riddled with volcanic stones. And in the descents too we had to be in perfect sync. Fortunately there was this incredible connection between the two of us, although it was really the first time we met. When I saw a tree somewhere and I had to pee, I just asked him to lift me up and put me there. We've enjoyed quite a few adventures together. I have still a very fine contact with him: he is a friend for life! At U/TURN you can make a lot of friends. I'm still in contact with people I met on previous trips and sometimes we see each other again on some of them. I got to know someone who lives nearby, in Dilsen-Stokkem. An amazing woman, a friend for life.
Such a journey is quite an enterprise for you and everybody around you. How do you get prepared for something like that?
The preparation is not evident, as I am away from home a week and a half, sometimes two. My wife and I know that this is again going to be very hard for me: I may fall, I'm going to lose bags of energy. I've also lost a couple of kilos. It's logical because you have trouble sleeping and eating. At home I'm used to excellent food. In the morning we had breakfast: rice with beans or eggs. At noon we got rice with bananas. And for dinner we had ... rice with chicken!. When they gave me the choice on the flight back home between vegetarian pasta and chicken with rice I didn't have to hesitate one second!
I am also not used to sleeping in a tent. At home I have a comfortable and well adapted bed. In fact I can't really stand sleeping insufficiently. As a matter of fact I broke my back three years ago skiing. And for sure things were very hard for me in Nicaragua, as I had to sleep on my back in that tent. OK, I took two special mats wth me but that wasn't of much help. It was there that I developed sleep apnea. A journey like that really is like going back to basics, even though we had a couple of guesthouses. The toilet was some kind of garden chair with a hole in it and a toilet seat and we were in a remote part of the wildness. So I sat there for fifteen minutes, that is if they didn't forget me, because at times it was half an hour! Fortunately the view was often very nice. And then they used to wash me in my birthday suit: I was shoved out of my tent on these mats and then they washed me in my wheelchair. It may sound kind of scary but in fact it was all quite normal and obvious. They were very considerate as to my having ALS but on the other hand they didn't lead me by the hand either.
I'm used to wake up quite early, here in Belgium as well. But in Nicaragua I had to call for the others to come and get me. At times I just stayed in bed. And we never ate at the table. We used to eat with our hands. I had my adapted cutlery but it was still difficult. But nonetheless or who knows thanks to all these things I really enjoyed it intensely. That's why I'm going back. These trips really are fan-tas-tic. Every day I watch the pictures and I still get goose bumps the moment I think back on them. Everyone coming along with me says it's truly an experience they'll never forget.
What would you say is the most important thing you've learned of it?
Mentally spoken I've learned so much. I've realized that I can still do so many things, although I have ALS and I'm sitting in a wheelchair. When you notice what other people cannot do any longer while I can, then I'm quite grateful. Also, I've learned many things about my own perseverance -and that of others for that matter. There was this young girl in our group and to be honest I had my doubts whether she would be able to go along on that journey. But she went for it all the way and made it to the top. You get to know your own limits and at the same time you learn to push them forward. U/TURN for me stands for pushing your boundaries, in spite of your diagnosis.
The support given by family and friends: did you feel it there -and before? You see, I believe it can't be obvious to see you leave for that remote part of the wilderness for two weeks.
I felt their support very much. My family backed me for 150%. They do remind me time and again that I should be careful and watch out, but their concern is well-meant. They know that I am in safe hands there. I'm always alert, among other things because I broke my back in the passed: everything to spare somehow my dear concerned wife.
The organization consists of able people having a lot of experience in assisting people with disabilities. They won't do anything wrong. Should anything happen then they would be there for me on the spot and they know how to handle things. They did ask me always to tell them if I was feeling any pain but otherwise they acted as if everything was just self-evident. That state of mind helps me very much to make me go like: "I can do this". Indeed, in Belgium I would perhaps feel more fear or I wouldn't even think of doing something like that. There, with my adapted wheelchair (thicker tyres) and the assistance from everybody else I saw I really could do those things. When we were on holiday in Tenerife U/TURN came for me to spend the day with them. We went to the mountains and the attendant even went into the sea with me. He just lifted me up and then we went swimming.
When your family knows you're in safe hands, then it's easy to "let you go". Anyway I didn't have that many opportunities to contact them. I did exceed my season ticket by 10 euro but sometimes they didn't hear anything from me for three, four days. Yes, you're really cruising through the jungle, the mangroves, on boats. Not much of a reception over there!
You can always bring your own assistants, such as family or even your personal doctor. But my wife will definitely never come along with me: she's far too scared of spiders, you see! 
How was your outward journey?
First we flew for thirteen hours to Atlanta (USA) and from there we went to Managua, Nicaragua. A plane trip like that asks for a lot of organization too. I had brought along a catheter as I cannot use the normal toilet on the plane. It is possible to get special assistance at the airports but I didn't make use of it. I even did certain parts by holding on to the seats.
In Nicaragua a chicken bus picked us up. That's something really special. A chicken bus is a bus that stops at every place where people want to come along, so there aren't any fixed stops. They look like those brightly painted American schoolbuses, that most Nicaraguans use as public transport. You can imagine what that means for me in a wheelchair: not at all obvious to travel in those vehicles! I clinged to the seats while that dumpy little bus was racing superfast over some bad roads. And so we arrived at our first destination. There I was, clinging to the seats, in the company of pigs, roosters and whatnot.
What can you tell me about your passage?
The journey led us to the volcano, but during the passage we kayaked as well through the mangroves, did numerous descents and even some boat trips. You come across lots of difficulties but then again, everybody gives you a hand, you live so many adventures… It's just impossible to describe. And when you arrived at the top you could go downhill on a sandboard. Unfortunately I wasn't allowed to do so because of my back, but if that hadn't been the case, I would have been the first to volunteer! For sure, the desire was there.
In spite of all the difficulties the best moment of the whole journey was when we arrived: knowing that you've made it. You receive a certificate to prove that you've made it to the top. It's just a piece of paper, but the sensation you get cannot be described. You know you've just pushed your boundaries. Even for people who can walk such a journey is difficult. And me having ALS, I did it, in a wheelchair. I can't possibly think back to it without getting goose bumps. (Video)
What were the difficult moments during the journey?
I can't recall one specifique occasion, but the lack of sleep was exhausting. Every morning I was dead tired and I had to muster all my courage, come on, yet another day. For sure, it was like that in the beginning. After a while you get used to it: more and more you see what you can expect and you get increasingly more powerful… But it wasn't easy, not by far. And certainly not with that temperature: during the day it often reached more than 35 degrees. It was meditation and having positive thoughts that helped me through. You learn to relativise everything, here in Belgium as well. There you don't have those everyday worries, no stress (except physical stress) and your medication was followed as it should.
Did you also come up against any unexpected difficulties?
None, as far as physical things are concerned. I knew that it was going to be difficult but I was well prepared and I knew I'd be in the presence of people who would be there to help when things went wrong. Every day I had to overcome new obstacles but that just made me stronger. For instance, I choked a lot on my food. We had two doctors in our company who regularly examined my lungs to see if everything was still clean. And in the beginning the heat certainly added to my problems (during the day it was 38 degrees). But after a few days things became easier: you get more and more used to your surroundings, you become stronger… so everything can be overcome, that's for sure.
Mentally speaking? The culture shock. The huge, so huge poverty over there. Things we throw away in Belgium are vital there. Shoes we would have thrown away a long time ago are still something of a luxury for them. I regularly gave people a few dollars. I got off with a fully loaded suitcase and came back with only half of it, that's how much I gave away. We take a shower with warm water that's just coming out of the shower head, whereas they have to walk dozens of kilometers to get ice cold and dirty water for a shower. Now that I'm back in Belgium, I'm much more vigilant not to waste too much.
What are your plans for the journeys to come?
I've already registered for my next journey to Nicaragua. I did so the minute I came back because all journeys are fully booked in no time. But because of my progressive desease I'm not sure I'll be able to leave next year. Therefore U/TURN asked me, first and for all, to send them my medical documents on a regular basis so as to be able to judge if such a thing is feasible. And they ask me to seek assistance by myself if necessary, by means of family or a doctor/nurse. I have a few options, but first I want to see how things are going to evolve. Up here (tapping his skull) everything's fine, but my body doesn't want to keep the same pace. Faith has it that in addition to all that I broke my back. So I am cautious but very optimistically so.
My next journey will be Tenerife with my family. There I'm going to climb the highest volcano in Europa. I would like to go to Chile as well and go on safari in South-Africa with U/TURN but that will depend on the progression of my desease. I certainly recommend traveling with U/TURN. After each and every journey of theirs I return much stronger. You learn so much from the experience. Sure, you hear other people say: "What on earth are you going to do there?" Anyway, you just can't describe it. For sure, I'm not going there to find luxury!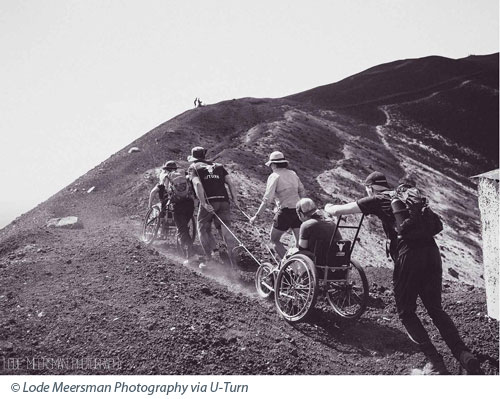 My advice to those people who are in doubt or feel fear: just do it. No more, no less. You will see that you will come out of it a different person, much stronger. I may have ALS, but I can still achieve so much. Certainly so at U/TURN. Unforgettable, indescribable, priceless.
Finally, one nice anecdote?
When, at one of my previous journeys, you didn't close tight your tent chances were you got spiders inside. One of my companions, Frank, who has Friedreich's ataxia, forgot to close his tent. In the evening he set up his tent and went to sleep and then he had to call for help. And guess who was coming? Sven! That was very funny. These are experiences you only have on U/TURN journeys!
Translation: André De Laet